9.14.20 - Issue #6
Fred Durst's failed attempt to take over the music industry
50 Candles for Fred Durst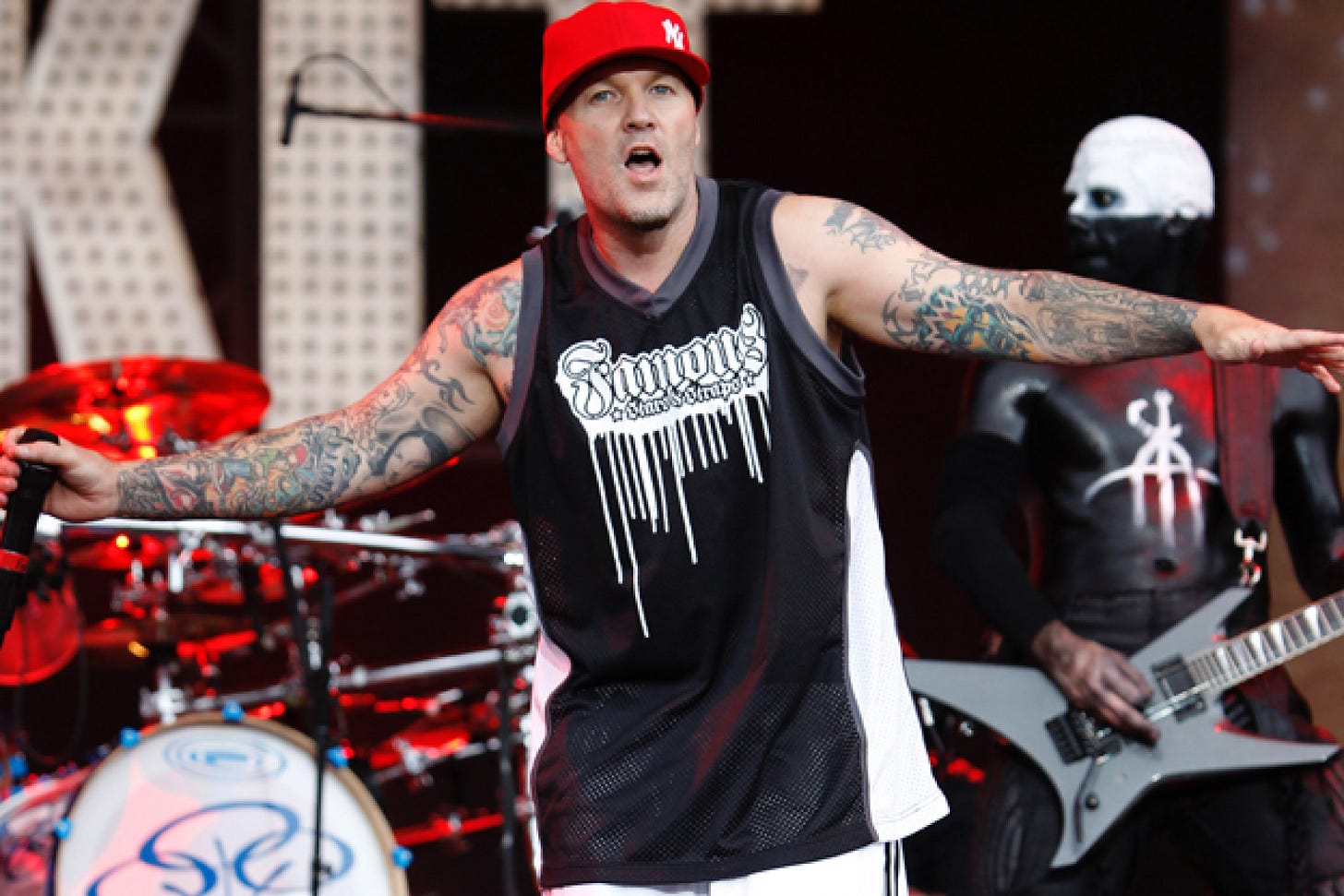 I bet you didn't even wish him a Happy Birthday this year…
The passage of time is hard to track when there is no middle ground. We have been living in a different world for nearly six months now. A deadly disease has run amok in our country, killing close to 200,000 normal Americans, with no sense of assurance that things are in control from those in charge. It has only enabled a steamrolling coup from a group of fascist-leaning greed-soaked racists with no regard for the safety and the basic humanity of the people they are supposedly looking out for. Millions are out of work with zero prospects for the future, and with automation rolling up like a Lyft driver turning onto your block, who's to say what jobs will still be available for the working class as we limp through to 2021. 
There are inferno tornados blowing through California with daily temperatures that are so dangerous they almost seem cartoonish in their villainy and cruel randomness. The skies are orange and the air is unsafe to breathe.    
In a less hell and brimstone time, people would be less lasered in on politics and focused on trivial pop-culture. Jumping the gun and reading articles remembering the 7-year anniversaries of albums or films you only kind of remember but need more context for. You know, like good ol' fashioned Americans!
This is all to say that with the world going completely rogue from its typical axis, there is a "blink and you'll miss it" quality to most of the PR campaigns for the entertainment that is being released into the world right now. What even is an "album cycle" in the world of COVID-19? In regards to the film industry, have you looked at what some of the recent releases are to rent or buy on VOD? Did you know Pauly Shore is in a new film called Guest House?
With so much brutal reality distracting us from the escapism that used to help us claw towards bedtime, you could be let off the hook for not noticing some of these trivial "popiversaries" flying by. For instance, how did you celebrate Fred Durst's 50th birthday back on August 20th?  
That's right. The Limp Bizkit … singer (I guess?) and the relatively successful film director (yes, it's true) is half a century old. As someone who completely ensnared the attention of the MTV youth in the early 2000s with his bastardized spin on Rap/Nü-Metal that felt like a coat of mud resistant to power washing, selling millions of records and popularizing the red baseball cap with angry white males before our current pigfuck of a president, you would think that it would be the perfect time to re-evaluate one of the most successful musicians of the last 30 years.    
I can only think of one explanation for this, and it's this: Like most things that were popular in the early 2000s, we would like to put everything that Durst touched, and set it ablaze like a landfill full of billowy JNCO jeans. 
While the band has been pretty quiet since the release of their 2011 album, Gold Cobra (I can only imagine there's a dick reference in there somewhere) on Cash Money Records, they have been promising their comeback album, Stampede Of The Disco Elephants. While I can't think that there is a contingent of fans clamoring for this collection of new LB tunes, I'm absolutely sure there is a silently brooding majority out there.    
While at least a lot of us are thankful that Fred Durst and Limp Bizkit are no longer topping the charts, with their rap frat boy metal influence bleeding down to other bands wielding PRS guitars on the modern rock charts, the threat of Durst making a larger dent within the music industry could have been a lot worse than any of us could have possibly prepared for. 
But first, a little more context – By the Summer of 1999, Limp Bizkit was undoubtedly the biggest rock band going. Their 1997 debut, Three Dollar Bill Y'all, was one of the biggest surprises of that year, going platinum and adding a sludgy buffoonery as thick as an Orange Julius to the once urgent sound that Rage Against the Machine pioneered years earlier. All anchored around their snotty rendition of the George Michael hit "Faith". The moment in that song where the band cuts out with Fred shouting, "GeT tHe fUcK Up!", just before Bizkit resident turntable scrubber DJ Lethal's bitchin' scratch solo could be the moment that ushered in heavy music's dead period of the early millennium. 
The bands follow up, Significant Other, was even more of a success with songs like the bitter breakup anthem "Nookie", angst in your pants tirade "Break Stuff", the woe is me pseudo-power-balladry of "Re-Arranged",  and the head-scratching Method Man feature "N 2 Gether Now" all dominating the same slots on MTV's TRL at the same time as Britney Spears, the Backstreet Boys, and N'SYNC. Since it's release, the album has sold over 16 million copies worldwide and at the time they were a signifier of the alienation of white macho suburbanites coming to a toxic boiling point. No other moment solidified this better than their performance at Woodstock 1999 where their set was largely blamed for setting the festival into a violent horror show that resulted in rioting as well as numerous accounts of sexual assault amongst the mud-covered masses in attendance. 
As much as we would not like to admit it now, Durst had his middle finger on the pulse of a generation. The band's label, Interscope Records, saw them as a goldmine, and with Durst being a particularly effective loudmouth and attention seeker, they thought they wouldn't try to lift the cinder block off of the dune buggy's gas pedal yet. They wanted to see how far it could go before crashing. In the Summer of 1999, they chose to give him a position with the label as Senior VP with his own imprint on the label, Flawless Entertainment. 
Durst seemed ready to fUcK sHiT uP in the music industry and conveyed that message in a statement released by Interscope. "I'm proud to have this position, but it means nothing unless I take the title and put it into action," he said, in my imagination, out loud to a scared intern in between sucks off of a Cheez Whiz canister. "Interscope has already done amazing things to shock the world, and now I'm going to come in and create a musical revolution."  
Like the giant prop toilet he would climb out of during some of Limp Bizkit's slots at OzzFest, this was Durst's chance to really shape a portion of the music industry in his own image. So with all of this power, where would he take it?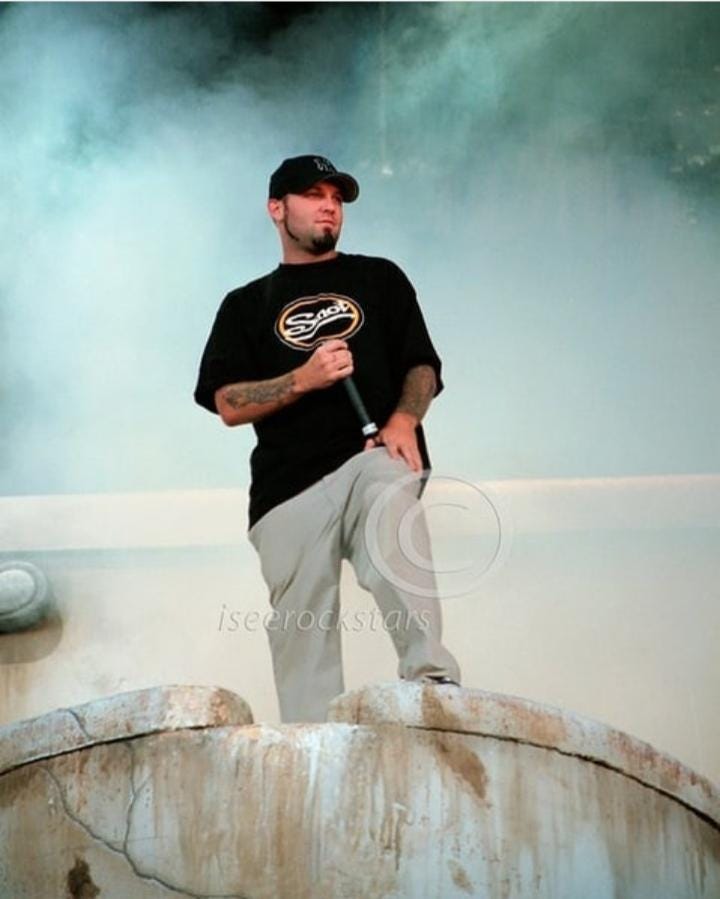 As journalists Steven Hyden and Jordan Runtagh pointed out on their great podcast Rivals, Durst showed signs of being a cutthroat record executive early on. After courting the post-grunge band Taproot to join his label, the band decided to go elsewhere which resulted in this highly circulated voicemail he left for the band's lead singer Stephen Richards.
While Taproot was not a part of the Flawless family, Durst was able to find varying degrees of success and loads of indifference with the bands he was able to sign, According to the label's Wikipedia page, Durst had only signed six bands throughout the existence of Flawless Records. Some of the notable artists included were:  
Big Dumb Face: The comedic Mr. Bungle style alternative metal band from Limp Bizkit guitarist, and resident weirdo, Wes Borland, and his brother Scott. Good clean weirdo fun.         
Kenna: The musical project of Ethiopian born Addis Ababa. His Chad Hugo co-produced debut, New Sacred Cow, featured the singles "Hell Bent" that dominated the radio in 2001. But due to hiccups in the industry, the album was left without a home until Durst scooped it up and released it on Flawless in 2003. By that time, any enthusiasm for a full Kenna album seemed … counterfeit.   
She Wants Revenge: To be honest, this is a band I actively despised when their self-titled record was released in 2006. Their single "Tear You Apart" seemed like it was recorded by a band that had formed after hearing Interpol's "Slow Hands" as a 30-second song sampler on iTunes. The band only released one album on Flawless and failed to lead Durst's infiltration into the post-punk revival. 
Ringside: The indie-rock project from actor and member of the Getty family Balthazar Getty, Ringside is a musical duo between Getty and multi-instrumentalist Scott Thomas is so much more fun than what it initially sounds like on paper. Perfectly in line with bands that were popular around 2005. RIYL: EELS, Ambulance, LTD., Beck.   
The Revolution Smile: This band was founded by former Far guitarist, Shaun Lopez. Growly shortly lived chugging post-grunge rawk from Sacramento. Even though Shaun was once one of the members formed the post-hardcore band Rival Schools with NYHC legend Walter Schreifels, his own band tried to go for Quicksand or Failure, but ended up with Chevelle.
 Speaking of post-grunge… 
Puddle of Mudd: Perhaps the band that kept the lights on at the Flawless offices, the Wes Scantlin led band was like the air-brushed t-shirt version of the Nevermind album cover and most certainly soundtracked numerous Big Johnson outlets in the Myrtle Beach area. As terrible as they are, their major-label debut with Flawless, Come Clean, sold five million copies making them the … gulp … household names they are today. We can make fun of Wes butchering Nirvana's "About A Girl" all we want, but the album where that song comes from, Nirvana's Bleach, has only sold half of what Come Clean has. Numbers don't lie. 
The band went on to release three more records with Flawless until releasing their 2019 album Welcome to Galvania on Pavement Records. That album was recorded over a five-year period as Scantlin struggled with his sobriety. In a sympathetic two and a half star review from Allmusic, James Christopher Monger said that the album was a "mature" step for the band and that, "Listeners expecting frat-party metal tropes in the vein of past glories like 'She Hates Me' and 'Blurry' will be disappointed, as Scantlin and company are looking to atone for their misdeeds instead of building sonic temples to them." 
Today, it appears that Durst's Flawless Records is no longer an active label. With no web presence other than a Facebook page with 55 followers, it seems as though the passion for musical revolution on a larger scale has died for Durst. Now that the man is 50, and you hardly hear of major festivals or award shows bending over backward to have Limp Bizkit trot out their old hits, we can take some sort of solace in knowing that we as humans are better off knowing that Durst's plans for domination of the music industry ultimately failed.  
But as we are all hunkering down in our respective homes, part of me would like to imagine that Durst spent his 50th Birthday reigniting his imagination for his long-dormant and unreleased magnum opus, Stampede Of The Disco Elephants. Perhaps, this record could have some sort of redemptive transformation that would usher Limp Bizkit into the current cultural climate. What if Durst's raps tackle the violence and misogyny of their past material much like how the Beastie Boys eventually atoned for the sins of their early material? 
Hey, look at me trying to see the best in people…
Happy belated, Fred.