8.4.2020 - Issue #3
A Rock doc appreciation post
Reconnecting with Humanity through Rock Documentaries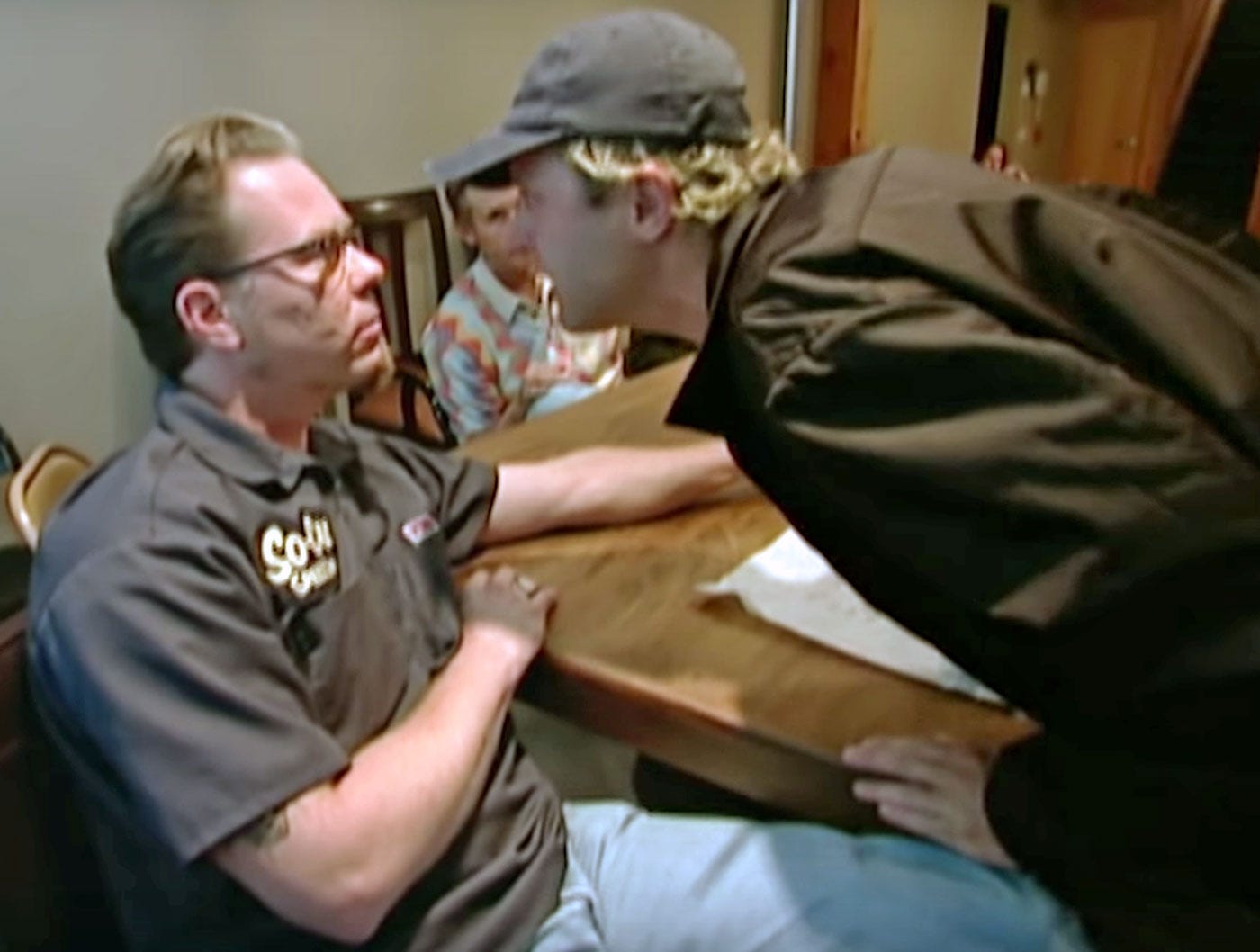 There's a curious thing that happens when you are hopelessly devoted to a specific art form. I'm not simply talking about being a diehard fan of a specific band, author, or performer. I'm talking about the entire world that encompasses those creators. If I were to lie to you right now, I would tell you that I am a music fan above everything else. My taste in music is something that I am sure to lead with when presenting myself. But the more and more I examine my own behavior, I realize that I have more blind faith in viewing documentaries on musicians than actually taking the chance on discovering new music the old fashioned way. You know, by actually listening to it. 
As to where I would be so hesitant to jump into unchartered territory with a band or artist I wasn't familiar with, I will never question my choice to spend two hours watching some shitty crowdfunded documentary about the inner workings of a local DIY Punk scene that barely moved the needle outside of their town or some hateable bloated rock star self-financing their own road to redemption. 
I can only give credit to my hunger as a music fan for being slightly curious in learning more about music I may not have a working understanding of. The other half I can't fully explain. I wouldn't argue that part of it is that I just simply love the drama of these films. The petty bullshit that can only be brought out through the power grab within an out of touch group of rock stars trying to reach legendary status. To be frank, it feeds me a certain kind of life-energy that I wish were bottled. 
A world without deadlines doesn't bring the calm I thought it would. I don't sleep much anymore. Sure, I'm stressed on a professional level, much like the millions of people out there looking for work in the middle of an unforgiving pandemic. Most weeknights generally play out the same way. My wife, who is still employed, turns in at 11 pm every night and me with my fidgety night owl energy, I stay up to burn the midnight oil for far longer than necessary. 
Some preach that this is a time where you should be as productive as possible. I definitely agree. But there is an uneasy heaviness to this moment that makes it hard to trust your brain in its spontaneous creative bursts. How can you trust what you create when you don't understand the reality you would like to reflect in your art? 
So for now, I am stocking the shelves. Hoping that by cramming comforting content into my brain that it will somehow help me to reconnect to humanity in ways that we're no longer allowed to.     
In the greatest Rock Docs, the filmmakers telling the story can cut through the barriers of the artist and fan relationship to show the viewer that, hey, "these rock stars are just like us". In most cases, they are people who have found themselves, after years of hard work and extreme determination (or luck), having to exist within extraordinary and peculiar waters. 
When done right, the films can either show how ordinary and down to Earth they are (Wayne Coyne of the Flaming Lips in The Fearless Freaks)  the disillusionment from stresses of fame (Metallica in Some Kind of Monster) or how all of the excesses that the Rock and Roll machine can make some people lose all of the decency towards other humans they share the planet with (Glenn Frey and Don Henley in the Rock Doc G.O.A.T, History of the Eagles). 
Sometimes I feel bad for how many of these documentaries I will watch over the critically lauded and award-winning titles exposing world-stage level injustices. But then it dawned on me, documentaries that provide a fly on the wall portrayal of celebrity culture are also exposing something worth discussion: can the average person carry the weight of unlimited fame? Better yet, can they live with themselves if they never actually achieve it? 
These psychological traits are certainly fascinating to explore, but there is another aspect to Rock Docs that has been really exciting to me during the lockdown.  
At their best, I get the same thrills out of watching a Rock doc as I would attending a packed out house party with only a vague notion of who will show up. Outside of the high likelihood that Dave Grohl will gush about the importance any classic rock act, or Ian Mackaye doing the same verbatim description of how the boys in Minor Threat assembled their first 7 inches by hand in countless Punk scene retrospectives, a good Rock Doc will always have that one "what-the-fuck-are-they-doing-here?" commentary from a celebrity or musician that you would never expect.    
For instance, In the documentary Turn It Around: The Story of East Bay Punk, you get a who's who of the wildly influential Berkley, California Punk scene that called the all-ages venue, 924 Gilman Street, which through strict rules and a thick air of inclusiveness, sought to create a youth utopia that would hopefully permeate on a worldwide level. If you are familiar with the history of that scene, all of the usual suspects are represented. You get healthy doses of Green Day, Operation Ivy, and Jawbreaker. But towards the end of the film, a face shows up that I did not expect to see: Michael Franti.    
Yes, that Michael Franti.  
Before watching the film, I knew Franti from his light and breezy "heal the world through song" hits. But what you come to find in his interviews and recollection of his time in the East Bay Punk scene is that the guy is far more radical than his current posi-vibe musical output. With his first band The Beatnigs, Franti led an all-black band that was more similar stylistically to the dark industrial grind of early Nine Inch Nails and The Birthday Party than Jack Johnson or Ben Harper.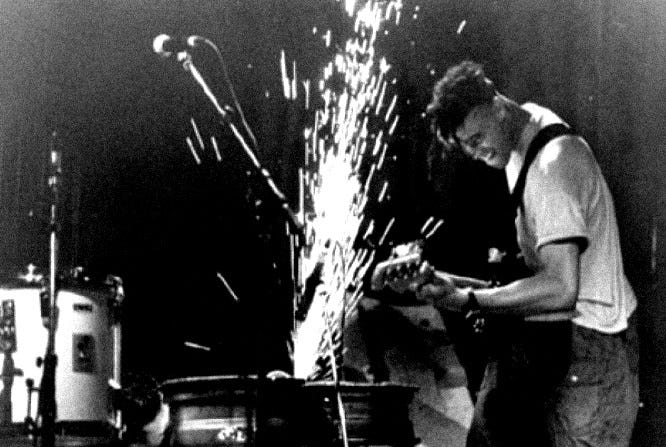 Michael Franti performing with The Beatnigs. Photo: Cor Jabaiij.   
His radically intense political poetry was the focal point while the band behind him clanged on metal objects, creating haunting and jarring musical chaos. 
"We went and got a bunch of pieces of metal that we found in a scrapyard," Franti explains in the film. "Because we didn't have a place to rehearse," he adds, "we would just go out to these scrap yards and beat on the metal. That's how we got these metal instruments. We brought them in to do a show, we had these big pipes, and people dug it. They were like, 'who are these freaky black kids playing on this metal and shouting all of this really radical  poetry?' That became The Beatnigs." 
WHAT?
The band released one self-titled album on Jello Biafra's Alternative Tentacles record label in 1988. Even though they had a relatively short career, Franti explains that they were constantly on the road and building momentum. This hard work eventually paid off and landed The Beatnigs an opening slot for U2 on their enormous ZooTV tour. In the documentary, Franti recalls opening for the band in arenas all over the country. Not knowing much about the band, he tried to be as friendly and cordial with them each night until, after one specific night, he was given a stern talking-to by Bono. Apparently, Franti did not know the band well enough to know that their guitarist went by the chosen name of "The Edge" and that it wasn't cool to call him "Ed". It really doesn't get much cooler than dissing The Edge to his face night after night.     
While the band didn't last much longer into the '90s, it feels like I should have at least heard of them?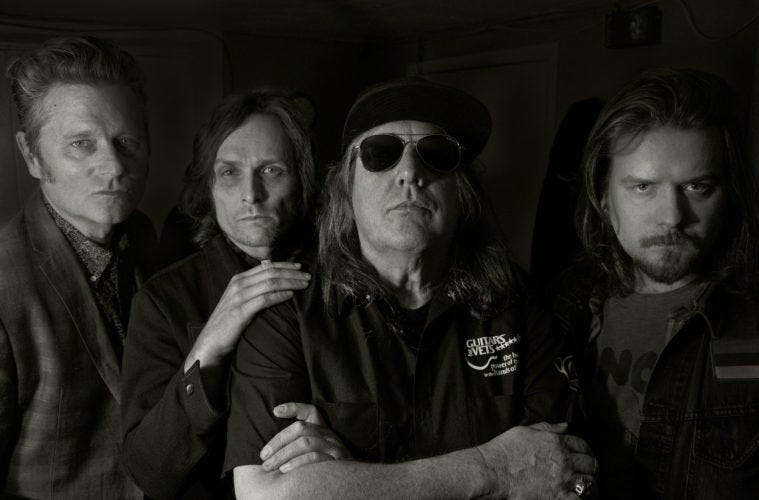 Drivin' N' Cryin'. Photo: Carlton Freeman
Until recently, I knew next to nothing about the band Drivin' N' Cryin'. You could pretty much lump my knowledge about that into two key bits of trivia: A.) The band is massive in the south. And B.) They have a name that resembles the world's most depressing arcade racing game.    
But as I saw the cover for the 2016 documentary Scarred But Smarter: The Lifes and Times of Drivin' N' Cryin' listed under the "Movies we think you'd like" section on Amazon Prime, I thought I'd give it a try. After all,  some musicians that were listed to appear in the film were Peter Buck and Jason Isbell and you really can't go wrong with that combo. 
What you come to learn watching the film is that the case of Drivin' N' Cryin' is similar to a lot of "should've been huge" band stories. To widdle it down, they are a better than average band from Atlanta, GA that cut their teeth in the pre-alternative rock era of the late '80s and early '90s. Led by the unique songwriting of Kevin Kinney, the band had its opportunity to expand out of their regional popularity after the success of their 1991 album Fly Me Courageous but lost all of their speed with its followup, 1993's Smoke. There is talk about their early influential punk days and Kinney's persistent fight with mental illness and how it sabotages the band and … 
Wait a minute... What is Darius Rucker doing in this thing?? 
Apparently the Hootie and Blowfish singer-songwriter and current CMT megastar was a huge fan of the band's early stuff, especially their rough around the edges honky-tonk ballad "Straight to Hell" from their 1989 album Mystery Road.        
"The first time I heard 'Straight to Hell', I was forever a fan," Rucker says in the film about a less than capable mother who judges her son for running with the wrong crowd after essentially forcing him out into the streets. "My favorite Drivin' and Cryin' record is definitely Mystery Road and my favorite song is 'Straight to Hell'"
It isn't exactly surprising that Rucker might dig this song. It borrows accessible traits from country classics and has a supremely catchy chorus. But it is charming in a way to see him go to bat for a band that still exists under the radar. The dude even had a big hit with the song when he covered it in 2018 with Jason Aldean, Luke Bryan, and Charles Kelley.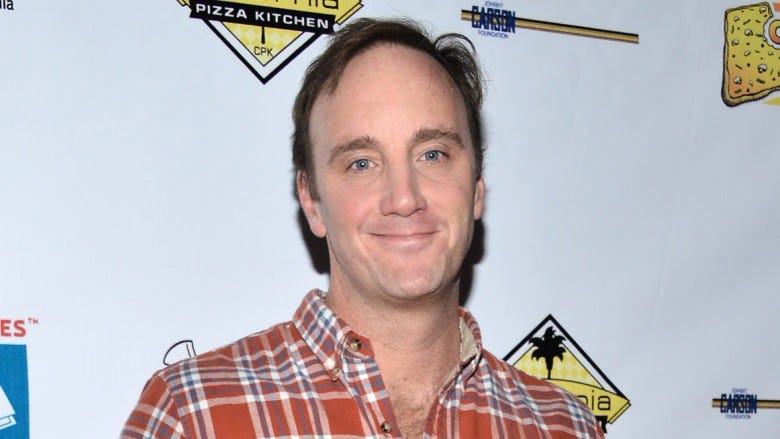 Jay Mohr. Photo: Getty
In recent interviews and his 2004 memoir Gasping for Airtime, comedian Jay Mohr talks about how he would walk over friends and peers in order to find success for himself, even stealing a bit from a fellow comedian Rick Shapiro for a sketch on SNL. Knowing this information, you would never in a million years think that he would practice some of the unifying teachings of the '80s Hardcore scene. Nevertheless, the Positive Mental Attitude (P.MA.) of the Bad Brains.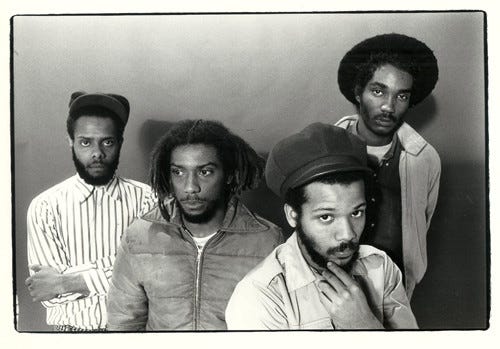 Lo and behold, Mohr was a producer on the 2017 documentary Finding Joseph I: The HR from Bad Brains Documentary. In the film, Mohr talks about his love for the band from their early genre-defining classics up through HR's solo career. Unbeknownst to me, Bad Brains are Mohr's favorite band of all time and he was a fan of that trailblazing time in American underground music, as evident with his interview with Henry Rollins on his podcast, Mohr Stories. Go figure?
With so many of our social interactions being relegated to brief interactions, the element of surprise I find in Rock docs has been providing that element of surprise that I am missing from long dialogues with strangers at bars and break room talks with work colleagues that I am only briefly familiar with. Those unexpected nuggets of knowledge are really what makes things interesting on a day to day level.   
Thanks for reading! There's no interview this week, but check back next week for Issue #4.