7.28.2020 - Issue #2
Not Above It: The Beauty of Action Films
The Hits of Jackie Chan 
The man slaps on so many levels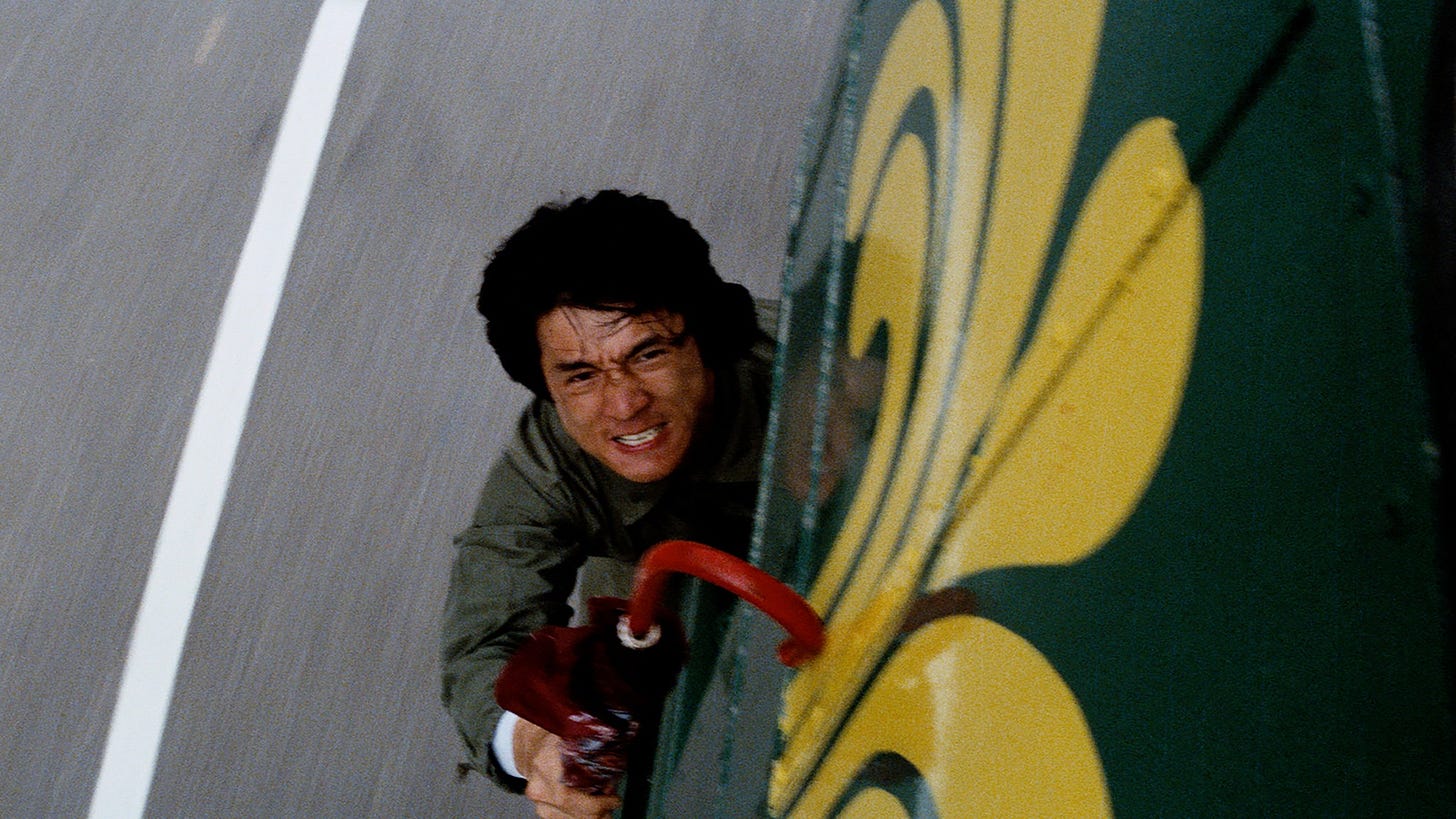 Jackie Chan in Police Story. Photo: Janus Films.
It's a really sad sign that going into the fifth month of this hellscape pandemic that we are already starting to tap out on certain streaming platforms. For me, I can't say I have seen every single film in Netflix's "Horror Films That Say Something About Your Ambition" but I can already tell what I'm getting into before I scroll through the titles. I was able to shake up my streaming malaise recently after a friend of mine gave me the log-in details for his Criterion Channel subscription. This may be preaching to the choir, but I was not prepared for how rewarding and enriching this platform really is. 
So much of my watching, with my wife and on my own, had been derived from filling up time during the pandemic. Both of us on one end of the couch, one eye occasionally darting towards our TV as we rack up unhealthy amounts of screen time on our phones. But now, there are films available that have excited us about … actually watching films! 
In the first week, I made a point to stay up every night, after Courtney had gone to bed, in order to make a dent in the "Directed By Mike Leigh" section. Watching Leigh's empathetic portrayals of kind-hearted and multifaceted working-class English people living uncertain lives on the DOL made me feel a kind of self-worth that had been missing these past few months. As anyone who has been out of work can attest, there is a lot of humanity that you need to get back without an occupation to provide it for you.       
 While Courtney hasn't been as obsessed with the Criterion Channel as I have, we made a date to watch the 1970 Italian crime film Investigation of A Citizen Above Suspicion together. We treated watching the Elio Petri film like going on a date, cooking dinner, and even dimming the lights. 
As I have been digging further and further into the vast selection on the channel, I have noticed one key aspect to it: all of these films require a lot from you. In fact, I feel some sort of shame if I even have my iPhone in the same room as me while I'm watching something for fear I will break down and commence the endless scroll. But for passive viewing,  are there any purely dumb and enjoyable films on the Criterion Channel? 
Luckily, there is. Through searching, I found that the 1985 Hong Kong action classic Police Story and it's 1988 sequel Police Story 2 are both included on Criterion. Written, directed, starring, and with all of the fights and stunts coordinated by living-legend Jackie Chan, the film is an endlessly entertaining and nonsensical thrill ride of "cops-fight-bad-guys" fun that would make any fifth-grade boy squeal with glee. In interviews, Chan described writing the film as coming up with the three big action sequences first and then writing the script around it to justify those sequences. Knowing that information, the simple story of a cop protecting a witness against her drug kingpin boss before she takes the stand to testify against him can be forgiven when seeing Jackie dangling off of the side of a double-decker bus, zig-zagging through busy traffic. 
Although Chan has pretty reprehensible political views and was named in the Panama Papers leak, he is undoubtedly one of the most important and innovative film stars the world has ever produced. The way he melds comedy and action in absolutely unparalleled. Like a Buster Keaton of martial arts, Chan has a certain sense of slapstick grace and control over his body that is supernatural. In the climax of Police Story, his character takes on a horde of goons inside of a shopping mall. In the ultra-long fight scene, he cascades through panes of glass down several flights of the shopping center and uses coat racks and whatever retail items are at his disposal to pummel his opponents. All of this is done with the wink and charm that made him one of the most cuddly badasses ever to exist on the screen. 
In the film's most death-defying stunt, Jackie jumps onto and slides down a giant pole that runs the height of the entire shopping mall. The pole is covered with lights that break as Chan slides down. This caused Chan to be covered with second-degree burns and the impact of reaching the bottom floor resulted in a back injury and a broken pelvis. Love him or hate him; you don't see The Rock doing this kind of stuff in his films. 
As the credits rolled, I was of course blown away by what I had just seen and, like most of his films, Chan added some great bloopers of stunts going wrong to show you how much work went into every set piece. These were great, but something else piqued my interest. A bumping 80's style montage song blared over the footage with a buttery voice singing over the top that was instantly recognizable. 
Then, there it was: "'Police Theme' written and performed by Jackie Chan"         
Not only did this guy nearly break his entire body for the film he wrote, directed, and starred in, but he wrote the god damn theme song! 
After investigating more (Googling) I found out that Jackie Chan has made 20 albums in several languages and has sold millions worldwide. By causally going through, I can confirm that there are a few bops to be found in the man's discography. The hazy and head nod inducing "Wow Wow Wow" from the 1985 album A Boy's Life and the blistering leads on the banger "My Little Girl" from the 1986 album Sing Lung are both bound to be on Summer playlists from here on out. 
The man also sang on the soundtrack for the Disney film Mulan when it was released in China and also penned and recorded an album in dedication to the 2008 Beijing Olympics. 
It is really hard to believe that a single man could have so many hits and slaps on so many levels.  
____________________________________________________________________________
VICE News editor Joe Matoske loves a good ol' fashioned Michael Bay Summer Blockbuster  
"Watching a Michael Bay film is like going into Burger King or a Five Guys or something. You know exactly what you are going to get."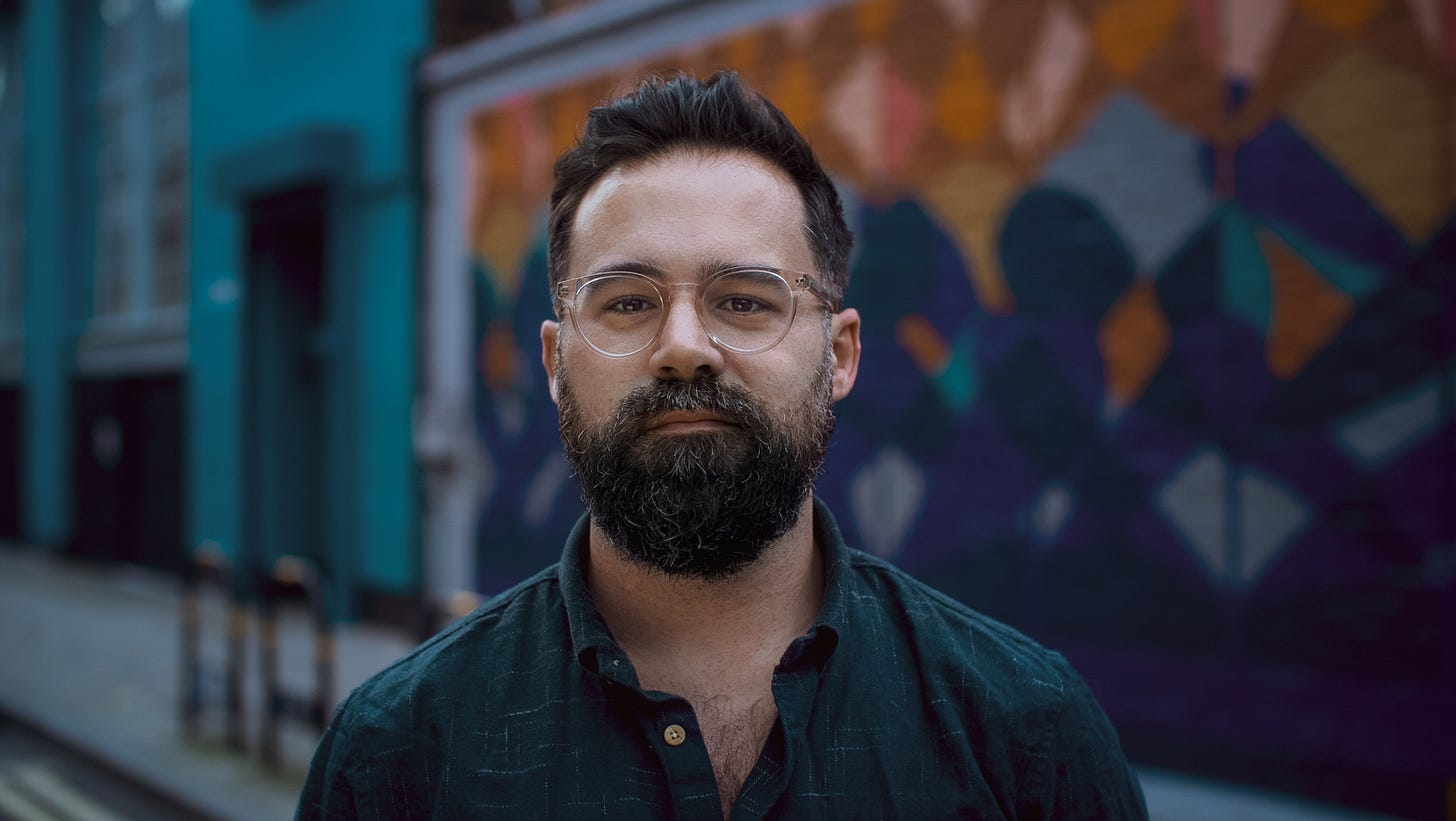 Emmy Award-winning editor Joe Matoske. Photo: Dan Bateman
Being on the inside of an artform can cause an unwanted shift in the way you experience it. If you work in film or television, it can be hard to separate yourself from purely enjoying something for what it is and understanding how the sausage is made. Editor Joe Matoske knows how to put a story together. Through his Emmy Award-winning work as an editor for VICE News Tonight and VICE Investigates, it is his job to take footage and reporting from the field and rearrange it in a way that the story is told with a narrative arc and only the most important information is used. Matoske knows how a project can become overstuffed and how to liposuction out some of the unwanted bloat. But with all of his understanding of how films are made, his love and enthusiasm towards Michael "I'm-going-to-blow-up-the-fucking-Moon" Bay films is something that he has never been ashamed of or shied away from when asked about. 
For as long as I've known you, you have been a big champion of Summer blockbusters and, specifically, films by Michael Bay. As someone who works in film and studied film in school, what makes him such a great filmmaker on a technical level?
Joe Matoske: I felt like you had action movies before Michael Bay and you had Blockbusters before Michael Bay, but they were always big on the explosion effects and stuff. The cinematography was good but it wasn't great. People weren't thinking in terms of the basic aspects in terms of action films. They weren't thinking of the score in the way that he felt it. He just had this obsessive personality that took the cinematography, the graphics, the visual effects, the editing, the music and he felt that all of these had to be ramped up to 10. 
When you look back on the late '80s, '90s, and early 2000s, it seems like a lot of action movies were assigned directors to helm these big-budget projects and in the process of working with studios, they ended up losing their personalities. That is definitely not the case when you watch a Michael Bay film. His films are drenched with his personality.
JM: I think you get that from [the fact that] he was doing music videos for MTV before he was doing movies. That was in the '80s and '90s. Music videos were perfecting the 3-minute film. 
There's a lot of weight tossed around when you talk about a "good film" or a "good filmmaking" in terms of the technique that is used behind the camera or how many boundaries are pushed with the storytelling of a film. But if you were feeling ill and on the couch, I'm sure watching one of Michael Bay's tight action films would most definitely lift your spirits. Is it hard to sometimes think of a film as "good" just simply because it's enjoyable to watch?
JM: Watching a Michael Bay film is like going into Burger King or a Five Guys or something. You know exactly what you are going to get. You could be in any part of the world, you could walk in and know what to expect out of it. He knows that all of the parts of the ride have to line up and has to be entertaining. It probably comes at the cost of probably the one thing that he doesn't really put as much attention to is the script and making sure that the scale of the writing is at the same spot as everything else -- the action, the cinematography, the tension -- is at. 
A great example is in Bad Boys II. There is no way the two of those guys are living off of cops' salaries. They're driving Lamborghinis, Ferraris. [Will Smith] has a really nice penthouse apartment. Martin Lawrence has a beautiful suburban house in a good neighborhood. He doesn't waste any time trying to explain it. Telling this story with two broke cops struggling to make rent would suck (laughs). It would just sort of distract from everything else [Bay is] trying to offer you. It's not a story about how hard it is to live on a cop's salary. 
I think a lot of directors do sort of end up drowning a little bit on this [idea] the connection between every part of their story has this sort of function that makes sense. They burn so much of their screen time and energy on setting you up for this ultimately irrelevant point for the rest of the narrative.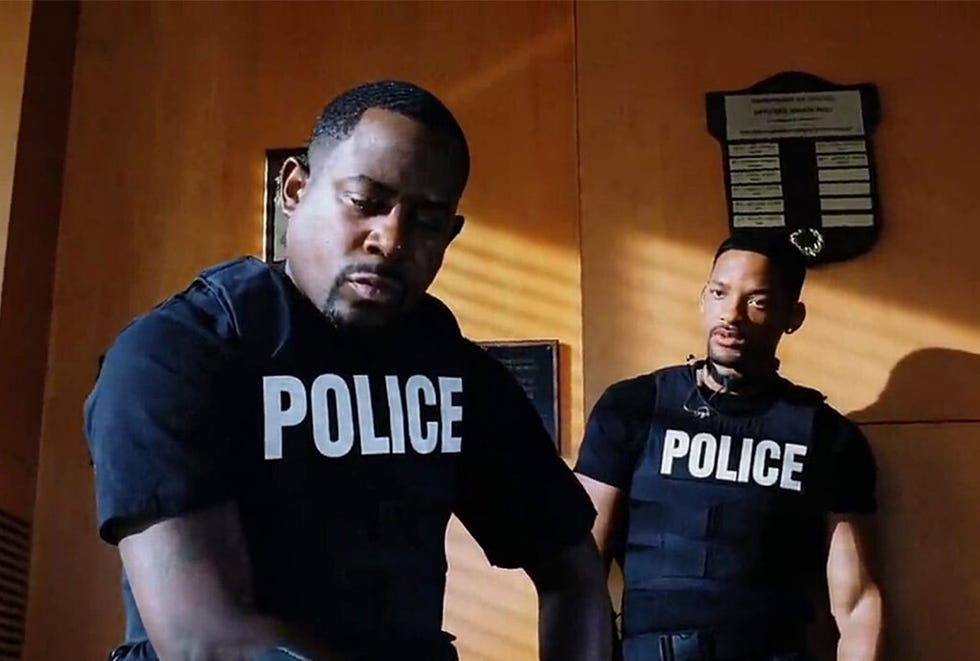 Martin Lawrence and Will Smith in 'Bad Boys II'. Photo: Columbia Pictures
What was your first realization, after studying the nuts and bolts of the form, that he was doing something special as a filmmaker?      
JM: I think the first of his movies that I saw was probably Armageddon. For me, Armageddon was the first Blockbuster that I think I, as a human, was conscious of while it was happening. I think I can still very much place that movie. I can recite lines from it, I remember the energy, I remember being in the movie theater. 
It's also a great example of all of the ways that he doesn't tie himself down to plot structure. It's these local drill guys going up into space! It painted this weird world where literally anybody can do anything and it takes you on this weird-ass adventure. That, to me, defines the "Blockbuster" and it's always the gold-standard to what I hold other Blockbusters to. 
As kids of our generation, seeing a Michael Bay/Jerry Bruckheimer tag-team duo on a film was evidence that you were in for an action-filled Blockbuster. For someone who never grew up with these films, and maybe just knows the controversies around him, what film would be the best gateway into Michael Bay films?
JM: (laughs) It's going to be Bad Boys II. Certainly Bad Boys II, but I think you also have movies like Pearl Harbor. Pearl Harbor probably didn't last the tests of time. But what it did is that it propelled this idea in movies that you always need what's called "three points of action".  Which is now a standard. Without Pearl Harbor you don't get Mad Max: Fury Road, you don't get a lot of the new ways that a lot of the Marvel movies use cinematography as a part of the action with the camera moving with it. He just had the camera next to the planes. He had characters moving, cameras moving, things moving in the background.
It is a good point of entry to understanding everything that is happening now in Star Wars movies, Marvel movies. How they try to have that balance of making you laugh, making you energized, making you sad, and making you excited. [He hits] all of those emotional cues.
Thanks for reading this week's issue. Check back next week and if you like Not Above It, share it with your friends!