7.21.20 - Issue #1
Welcome to the first issue of Not Above It!
Welcome to the first edition of Not Above It!
With this Newsletter, I will be writing essays on overlooked and, perhaps, underrated music, film, and television as well as interviewing creators on their guilty pleasures.
This week, I will share my experiences of attending the Guided By Voices Livestream from home while on a Zoom call with a group of friends and an interview I did with Jamie Frey of the band NO ICE about his love of Ben Folds.
Let's dive in…
Is the Club still Open? 
Can you maintain the same concert rituals when the venue is in your living room?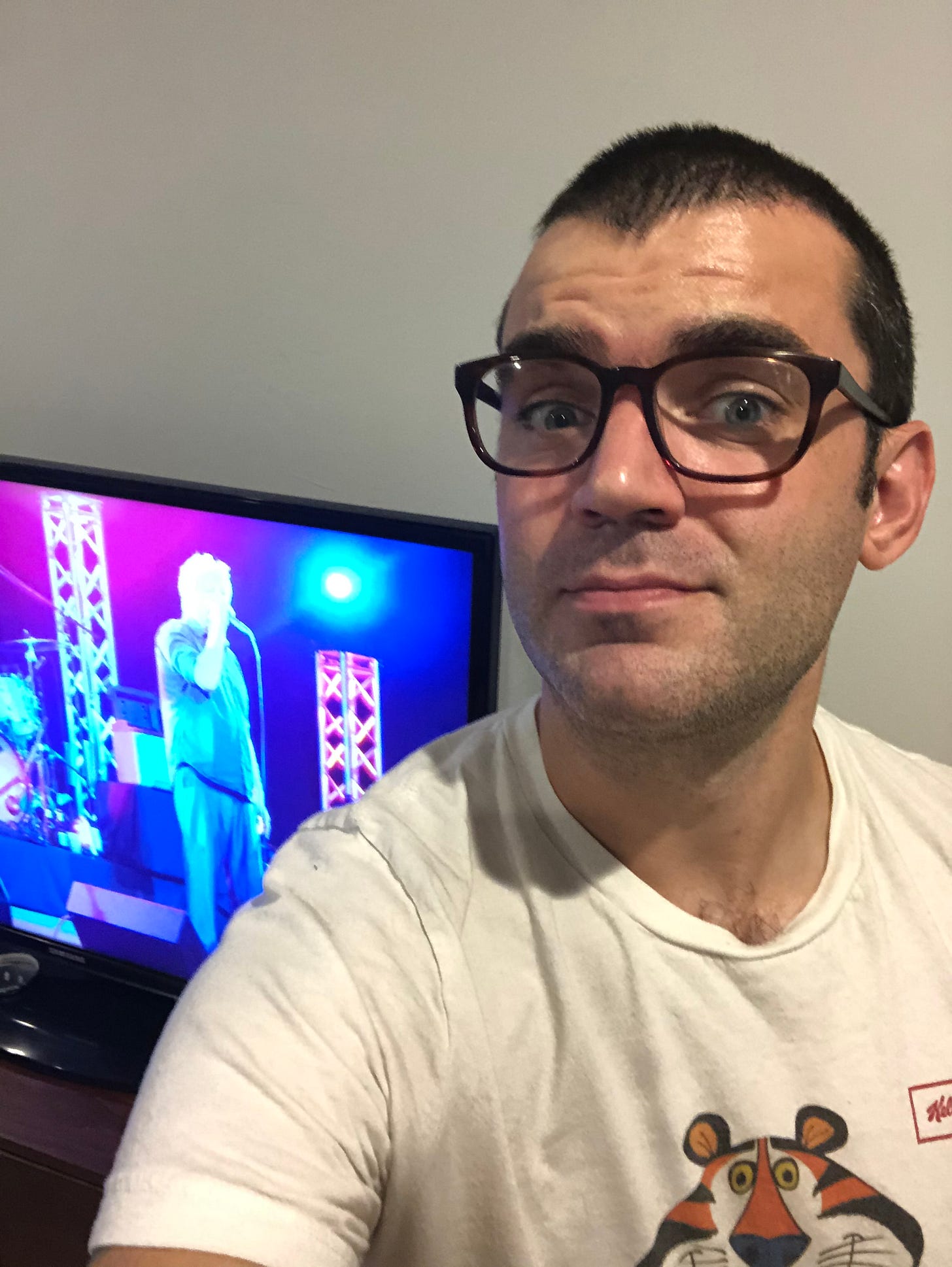 We bought our tickets in advance, and we made plans to meet up for the rock show. 
It seemed like a fun idea. But good clean fun goes hand in hand with skepticism these days. 
Pre-existing show rituals aside, is it really the same as it ever was? As many musical acts are making the transition from stripped-down Instagram Live shows to performing pre-recorded broadcasts beamed out from big empty venues, can fans of music still maintain the same sense of excitement, wonder, and community while "attending" these shows from their couches in the age of COVID-19?
As we approach the fourth month of this new existence, the lingering effects of the outbreak throughout New York City is starting to feel like a brownish stain, scudding up the porcelain from an unwanted visitor too difficult to flush out. We're aware that the problem is under control, but things are definitely a long way from being "back to normal".  What is starting to happen, as we've adapted to social distancing rules, is that running into people in public is feeling less like freezing up in a prison spotlight, but more like banding together to take out the guards. But with freedom insight — and for the sake of drilling this metaphor into the ground — we still have some distance to put between us and where we just were.       
Seeing some of my favorite artists and musical heroes playing special acoustic sets through Instagram Live and Twitch seemed like a necessary lifeline when all of this all began. But between stewing indoors in a race to dwindle our imaginations, forcing ourselves into a new kind of stop-and-start pattern of conversation dictated by overpopulated Zoom chats, and watching artists lose their enthusiasm midway through their sets due to technical difficulties in their at-home studios, the goodwill towards attending any sort of online gathering is seeming less and less genuine or beneficial to the human soul as these months drag on. 
I want what I want. But I'll take what I can get. 
Knowing this push and pull within myself made me extremely excited to hear that my favorite active band (and boy, are they active!) Guided By Voices announced that they would be doing a live pre-recorded full band show from an empty venue, The Brightside, in Dayton, Ohio — the hometown of the band's leader and tirelessly prolific frontman, Robert Pollard. 
Pollard is someone whose work has changed my life for the better. But what's interesting about saying that, is that the action of his work has perhaps changed my life just as much as the music he has released. With over 100 albums released over close to four decades of musical activity, the man still gets up every morning at the crack of dawn, at 62 years old, to work on new songs and his own brand of surrealist collage art. You would be right to scoff at me telling you that after two reunions of the entity known as "Guided By Voices" that the notoriously hard-partying and shit-starting Pollard is writing some of the best material of his life at this stage in the game. But, there is something special happening right now within him that has resulted in a prolonged golden period that, if anything, is keeping his name in the conversation as one of our national treasures that deserves protection. Hell, the band had released three great albums last year and is about to release their second album of 2020, Mirrored Aztec, next month. Perhaps the scarring on his liver has scabbed over and made him stronger than ever? 
All in all, I knew I would be purchasing the $20 ticket. Back in the normal times, a $30 ticket to see GBV live at a normal venue would ensure the following things: 
1.) At minimum, each show would last close to 3 hours with around 50 songs played; main set and multiple encores included. 
2.) There will be drinking involved. 
The band is unrightfully, but perhaps justifiably, known for their drinking onstage as much as the volume of music they produce. This can add an element of excitement to the live show, as Bob veers into long shit-talking rants resembling stand-up comedy more than your regular run-of-the-mill "rock guy" stage banter. As the band soldiers on into the set behind him, he tends to slur his words as he trades in the vanquished Miller Lites pulled from their onstage cooler for swigs on a bottle of Cuervo Gold. 
As someone who once made a 300 song "intro to Guided By Voices" Spotify playlist, there is no question that my GBV fandom borders on obsessive. But these perks of the live show are things that I wasn't sure I would be able to look past as someone who sees the band at least twice every year.   
To make sure I wasn't watching the show at home by myself, sitting on the floor by the TV and pressing my hand up against the screen as the band plays like the little girl from the movie Poltergeist, I decided to host a Zoom chat with a few friends so we could all chat as we watched the show together.   
Ahead of the show, the crew had been assembled: Kris, Chris, and Grace.
Since the band had chosen to air the show at 5 pm to accommodate fans over in the UK, I would have to finish up work early and run to the store to pick up supplies. I grabbed a six-pack of Miller Lite bottles (as a sign of respect) and a four-pack of Switchback Ale, you know… for something nice in between. In my anticipation and my lack of full-time employment, I had accomplished all of my tasks with a couple of hours to spare before showtime. 
I didn't know I would feel this way, but the pre-show excitement started to creep in. It was some sort of phantom energy for an event that I was only attending in theory. 
"I guess I'll start pre-gaming," I thought to myself. 
I opened a Switchback can at 3:30 pm to sip on as I putzed around the apartment as my wife Courtney wrapped up her workweek from home. My excitement wasn't in the mood for casual sipping and together we made quick work of the sweaty tallboy. With an hour until showtime, I snapped the cap off of a bottle of Miller and signed on to Noonchorus.com where the show was being hosted. Thankfully, and funnily enough, there was a countdown clock counting down the seconds until the show. I swigged away in rhythm as I queued up the broadcast on our TV in our living room. 
Once the clock wound down, I logged onto Zoom with Chris and Kris. Grace couldn't get away from her job that early in the evening so she sadly had to bow out. Logging onto a group chat at the same time the show started felt like that rushed moment when you tap a friend on the shoulder who is firmly positioned in the crowd just as a band's entrance music begins at a crowded show. We had to rush our chit-chat and crystalize it into the bare essentials before the band started their set. 
The show's presentation was charming in a homespun kind of way. Since it was pre-recorded, they spliced in some black and white archival footage of the band and their producer and live sound engineer, Travis Harrison, having fun and drinking on the road.
The band sounded enormous within the empty venue. You could really tell that Harrison took the time to properly mix each instrument to make them pop and mesh to perfection. Lead guitarist Doug Gillard is always a monster within the live-setting, but getting a full grasp of his work in this context only deepened my appreciation. On rhythm guitar, Bobby Bare Jr. held it down, bashing chords with reckless abandon and bassist Mark Shue weaved in melody as he chugged along on the low end. Drummer Kevin March, perhaps the most accomplished musician of the band, is a master of controlled chaos; all at once embodying the spirit of Keith Moon while integrating a sense of post-punk tightly coiled precision. 
With the band sounding top-notch, what could be said about the king of the clubhouse? 
Seeing the band live, I generally give Bob as much credit for simply attempting the honey-soaked Daltrey-esque high notes that he was able to pull off in his mid-forties. There is an element of rooting for the underdog when you are a fan of a man as old as Pollard who continues to defy the erosion of youth in the way that he does. But when you are simply presented with the tapes as evidence, it's a little bit harder to look away from or give the "pass" you would be able to face to face. 
Bob's singing during the set was admirable, but you could tell he was having a hard time locking onto notes the way he used to with such 90's anthems as "My Son Cool" from Alien Lanes or the "The Official Ironman Rally Song" from Under the Bushes, Under the Stars. What he pulled off, with flying colors, was the authoritative lower register he has adopted with the band's recent material. I guess that's why being a fan of GBV is rewarding to some extent. With how frequently they release material, you don't really have the time to reflect on the aging process. 
Of course, all of this was discussed in real-time. An alarming realization of watching a concert while on a Zoom call with your friends was that I found myself accommodating the volume of both my Chromebook and my TV both to hear my friends speak as well as to tune into songs I was excited to hear. The aspect of shout-whispering into someone's ear at a show was gone. Like all Zoom chats, we all took our proper turns to speak and to be heard. It made for a bizarre yet polite experience. 
Unlike before, we could hear each other when we announced we were going to the bathroom during songs we weren't that into or when we needed to run to our respective kitchens and grab a new beer. We all made the "does anyone need one" joke far too many times. 
At one point, Kris asked if our friend Matt could join in on the Zoom chat. As the administrator of the group, I said it was okay and we now had a new friend joining us for the show. It felt the same as meeting up with a buddy you didn't know was going to the same gig as you. But this time, you could choose to ignore what was happening on the stage and veer off into new subjects such as Fantasy Baseball if your interest started to wain.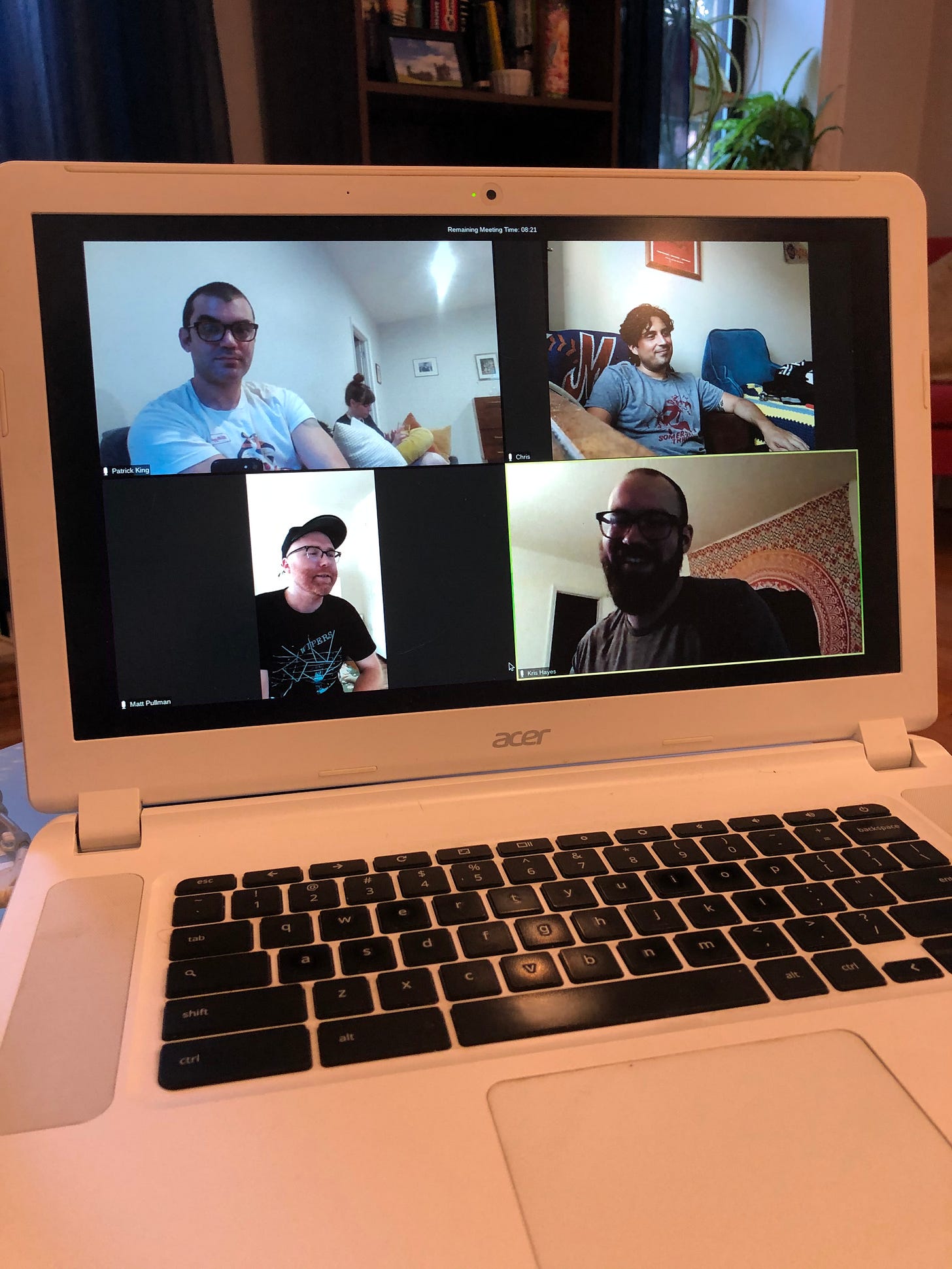 Without an audience to talk to, there was hardly any stage banter. As a result, the band blew through their 53 song set in just around two hours. A tremendous feat by any standard considering this would have easily been a three-hour show or concert film by any other band. 
With five empty bottles of Miller Lite in our recycling bin, it was now a little after 7 pm on a Friday night. The sun was still shining as we all ended our chat. By that time, Courtney had joined my heavily buzzed (shitfaced) body on our couch. Our living room was silent as we looked at each other.
"Well," she asked, "What should we do tonight?"  
Jamie Frey assures you that Ben Folds isn't as wimpy as he seems 
I spoke with the NO ICE songwriter about the nerdy sophistication of the 90's piano-man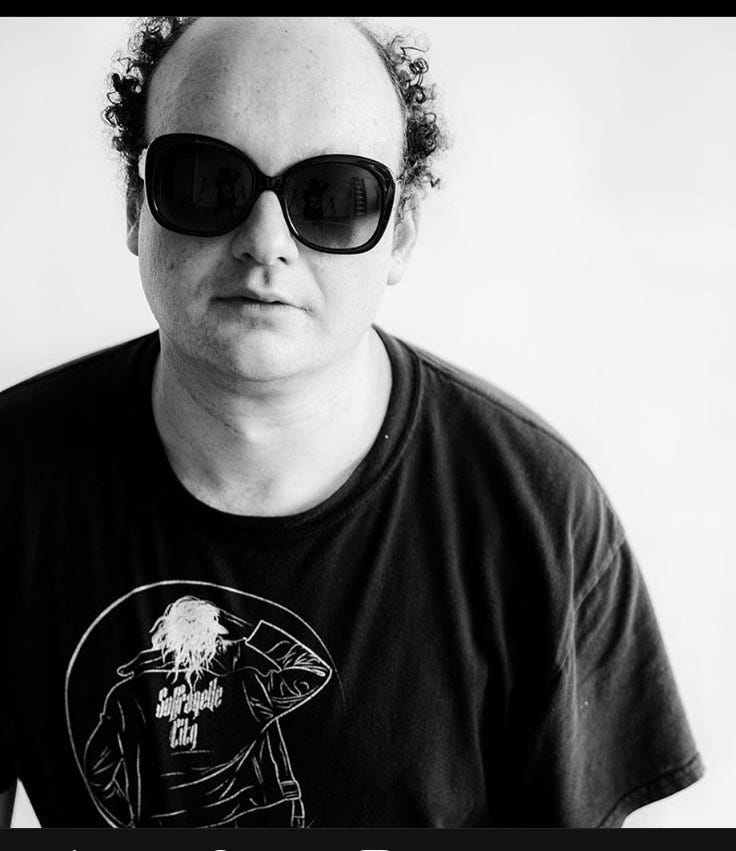 Jamie Frey of NO ICE. Photo: Jeanette Moss.
I am convinced that Jamie Frey is more of a fiery combustion than an actual living breathing person. With his musical projects, such as the gone but absolutely impossible to forget The Brooklyn What and his current band NO ICE, he encompasses everything that you want (and very well deserve) as a bonafide Rock and Roll frontman. When he performs, he grits his teeth straining out syllables into the receiving side of a microphone, his incisors may as well be metal bars fencing in the rest of his soul from pouring out. 
The dude has convictions and an excitable spirit that he walks in tandem with at every given moment. Not a lot of people can say that, but I'm sure there are a lot of people who think that of themselves. This is a quality that has drawn me to him for nearly a decade of friendship and musical admiration. 
Talking to him about music is always a great pleasure. As an unabashed fan of music at it's most sweet and most sinister, Jamie can always suss out what is worthwhile and what is simply offensive to engage with.
When I asked him to talk about a favorite musical "guilty pleasure" before meeting for an evening stroll through Prospect Park, we landed on the subject of the singer-songwriter Ben Folds. Thinking about Jamie's songs about the awkward misconnections of the heart, it's easy to see the mark that Folds has had on him as a songwriter.         
How did you get into Ben Folds and why do you consider him a 'guilty pleasure'? 
Jamie Frey: When I got into Ben Folds Five when I was in high school, I guess they were a "one-hit wonder" and somehow I bought the album Whatever and Ever Amen in the 99 cent section at Sounds on St. Marks. I thought it was really offbeat because it was a jazz trio with no guitars. It was the Alternative era where you could get away with all sorts of stuff. For whatever reason, at 15 years old I really related to his songwriting which is very poetic, very cynical, very romantic — a lot of the things that I love about Elvis Costello or Ray Davies. 
He does have a real edge to his lyrics. The music of The Ben Folds Five is way more jazz than rock, but not in a corny way. At least to me, at the time. I had no context for what that record was supposed to be other than it was like a minor radio band that happened to be really, really good. Then Ben Folds sort of had a comeback, and I did see Ben Folds play about 10 times. He used to do these piano tours that I thought were absolutely brilliant. At that point, I became a super fan of his songwriting. I knew all of the words to his songs. All of the kind of geeky romantic loser-y humor really touched me as a kid in the same way that I love Weezer. There's this outsiderness that I really appreciated. 
Then [when I was] in college, Ben Folds had a resurgence and became an artist that people who were into things that didn't "rock" and [were into] very safe kind of white music. I think he found a new audience in the "college crowd". Whatever edge he had lost, he was still a good songwriter, but it became distinctly un-edgy music. As I became more sophisticated, it seemed like it didn't fit in with the things I liked when I told people I was a big fan of Ben Folds. It was a very super-white college kid, acapella group theater kid vibe. I thought he was the punk version of a jazz trio when I found him. And then… (laughs). 
There was a very distinct line drawn in the sand between the records he made with Ben Folds Five and as a solo artist. The band albums had a punk almost early Joe Jackson edge to them as to where his solo records have these bloated, sometimes cheesy, arrangements. 
JF: Most of the [band] records are just the three of them, and sometimes it sounds like 10 people playing. The creativity of the arrangements are comparable to the Minutemen — what could a trio do? There was a lot of vision to it and also I think when I was developing and wanting to become a musician, It really is music that places a lot of importance on the basics of songwriting. This guy's chord progressions and melodies are un-fucking-believable. He has the ears of someone like Brian Wilson, Burt Bacharach, or Gershwin. He really has a high minded way. And also he worked as a songwriter in Nashville, which makes sense, so he has some of that working-class songwriter shitting out really strong material. His lyrics are dense and funny. He's a very funny songwriter, but I think when the edge left and got off of him whenever he made that transition, the whole thing started to look… the ironic take of Ben Folds did not age well. Especially when his audience started to change towards a more Frat audience. 
I have a really funny story. I was dating a woman who also liked Bed Folds and she got us passes for the big party that they have in Prospect Park for all of the donors. It was a "White Party" in the middle of the park. She was like, "Let's go to this thing. Ben Folds is playing. You like Ben Folds, right?"  I was like, "That sounds cool. I do like Ben Folds!" 
There was nothing more crushing than watching Ben Folds play a "White Party" in front of all White people, playing a white piano with the Altima logo written on the side of it (laughs). I could not enjoy it because I felt him feeling dirty about it! I felt like this is extremely gouache. There is something depressing about this. Even though the guy is great, this doesn't take anything away from him. You can't really choose your audience and the era that he came out in where there was something weirdly aesthetic like, Ben Folds Five, Cake, They Might Be Giants, No Doubt, these are all bands that are not easy to categorize and they were all big bands. That era was over and then there's this sort of type of music that has been perpetuated. An NPR taste in music or pleasant white people music that doesn't really rock. That's ultimately his audience. Even though I think Ben Folds Five is a pretty transgressive group. They thrashed on jazz instruments! It was certainly informed by Punk. 
I think I'm definitely influenced by Ben Folds Five. I don't even have to listen to them anymore, I know those records inside and out. It's hard to resign within my contemporary "thing" where I don't necessarily advertise it. 
Do you feel like you always have to announce your love of Ben Folds as a "guilty pleasure"?  
JF: I don't know. Especially when it comes to things that came out when we were growing up in the '90s, I can separate nostalgia and some amount of objective "good". I do think Ben Folds Five is objectively good. However, I think I probably have grown past the "sardonic white boy" role that he played. There's something about being a young romantic you can really get behind these people who are being really pathetic in a humorous way or a kind of nuanced romantic way. I was definitely into that in my own music and other music I listened to. It is one of the things where it's like "ugh, this is really white people music" (laughs). 
There's some kind of cutoff of how transcendent you can get when (you think) "this music is for dorks". Even for me!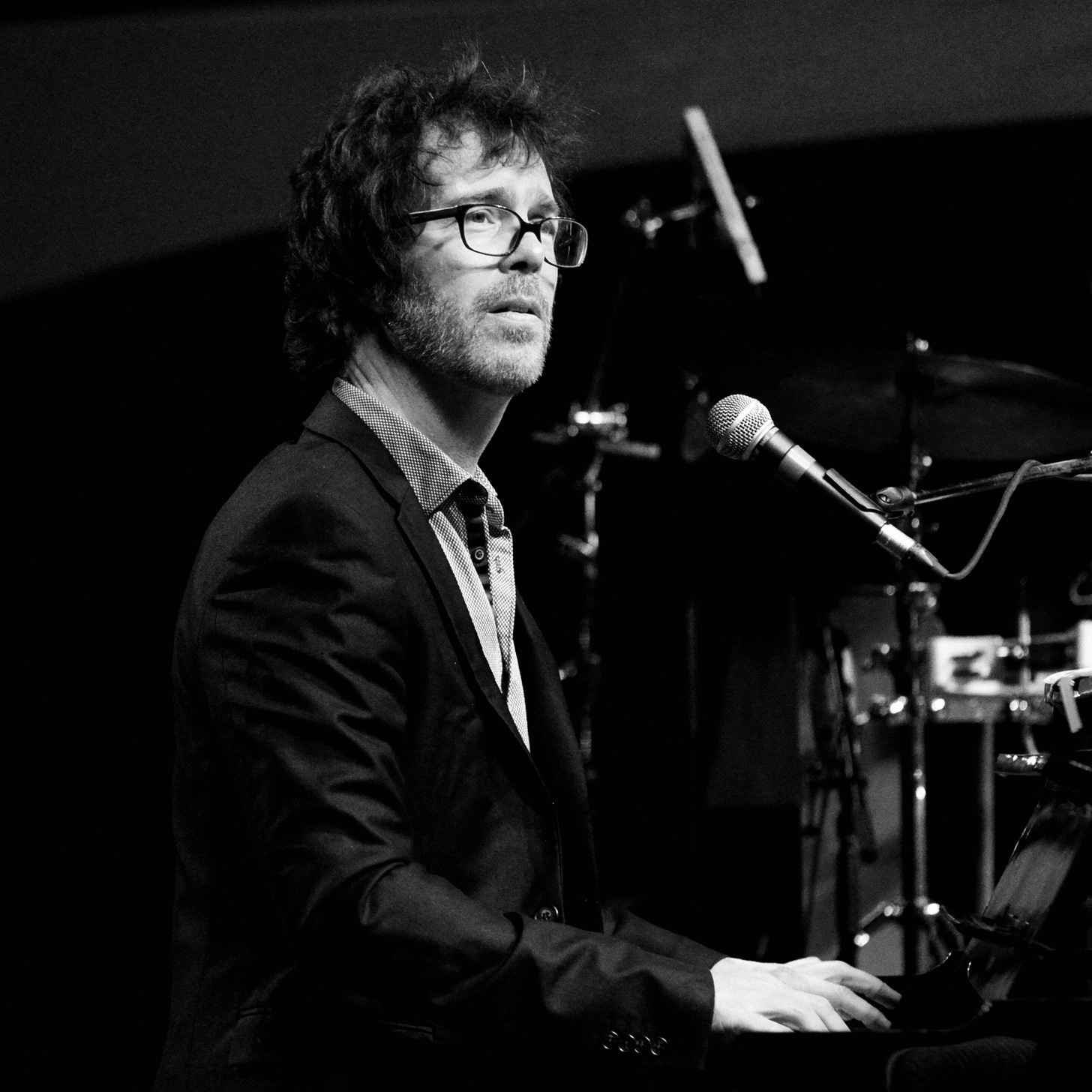 Ben Folds. Photo: Anthony Scarlati (Big Hassle Media).
What is a misconception people may have about him who may not have the same soft spot for him as you do? 
JF: Ben Folds solo music definitely resembles Soft-Rock or Soft-Pop. I would not call Ben Folds Five a "soft band". Whether they are emulating Punk or more uptempo Jazz, they play really fucking hard. He beats the shit out of his piano. He screams his ass off. The rhythm section really cooks and the bass player will put on a fuzz pedal and would play something that wouldn't sound out of place on Nirvana or Smashing Pumpkins. 
It's not as wimpy as it looks. It looks really wimpy and it's marketed to wimps, but I don't think it's a wimpy group. I think it's a group were it not for the sort of lighthearted and humorous moments might be taken kind of seriously as a very strong musical band that was innovative, intellectual, and 100% unique. I cannot think of another group like that. I can't think of another group where the piano is played like an aggressive guitar and a Jazz rhythm section Punks out. While playing Pop songs! It's not for intellectuals or the avant-garde, it's not appealing to those people. It's appealing to the people that Nirvana and Green Day were but like going through that heady musical angle. I don't think that they're wimpy and I don't think that they're soft. 
I think if you like Punk you may like it. It's dark and it's funny. It's brainy without being snotty. I like stuff like that. I think that a lot of music that came after in the same area is extremely humorless and doesn't put itself out there in the same way. Ben Folds is a very brave dork with his dorky band. I think that they probably will be rediscovered for that in some way. Probably when Ben Folds' goofy career is over. When he's not on The Voice and doing acapella group albums. There's no way that Indie people will ever get into that. All of that stuff is extremely gouache to "the hip audience". But I think, in retrospect, that is a band that is not like other bands and did something completely unique to themselves. That's pretty Punk to me.      
Do you have a favorite song of his? 
JF: I've always loved the song "Kate" from Whatever, and Ever, Amen. It's a character song where he's describing this girl that he's been observing. I heard that someone bet him that he couldn't write a hit where the chorus is just one word over and over again. So the chorus is just "KATE! KATE! KATE" I've always loved that song and it really, really rocks as a Soft Rock song. It fucking grooves! That whole album is pretty brilliant.
There are a few things on the album that follows, The Unauthorized Autobiography of Reinhold Messner, which is the last album from the band and also when they decided to get more "heady" and more serious. There's this song "Mess" that is like a Lennon/McCartney worthy arrangement. "Don't Change Your Plans"... there's just some stuff on that record which is ambitious on a high musical level, which you kind of never get any more. That album is from 1999 and it's one of the last of its kind in some ways where it's really ambitious traditional Pop that's gunning for that Beatles/Beach Boys musicality and transcendence. I think both the second and third records, anyone who is a music snob should probably know the records. By my feelings (laughs). 
You can check out the new NO ICE single "Dweeb" and the solo EP by Jamie Frey, Mensh, on noice.bandcamp.com.
Thanks for reading and check back next week for Issue #2 of Not Above It.